Tourism to Kunisaki Peninsula
Kunisaki Peninsula - a cycling haven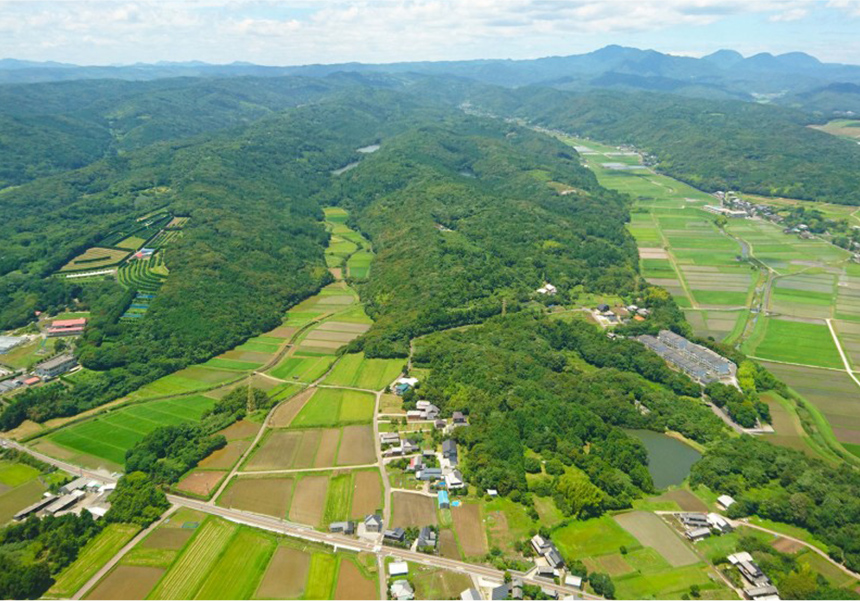 In years past, the professional Keirin cyclists from the velodrome in Beppu used the roads of Kunisaki to train on until the fixed-wheeled Keirin bikes where made illegal on the public highway in Japan. Undoubtedly, these professional sportsmen and women must now be disappointed as Kunisaki Peninsula is a cycling paradise. This little-known region offers many routes over varied terrains, including a flat coastal cycle path, winding country lanes and steep hill climbs. Most of the roads, especially in the peninsula's interior, are quiet backroads with little traffic that pass aside paddy fields, lead through hamlets and verdant forests to remote temples and shrines.
Kunisaki Long Trail
The Kunisaki Hantou Minemichi Long Trail, to give its full name, is a meandering, 134km-long hiking route that weaves through the Kunisaki Peninsula following in the footsteps of the Rokugo-Manzan monks, who first came here for their ascetic practices 1,300 years ago. The route links many temples and other sacred sites including the Kumano Magaibutsu, Makiodo, Fuki-ji, Tennen-ji, Inomure-yama, Nakayama-Senkyo, Kyu-Sento-ji, Itsutsu-ji Fudo, Iwato-ji, Monjusen-ji, Ruriko-ji and Futago-ji.
The trail passes by paddy fields and quiet hamlets via quiet country lanes, through forests along old mountain paths, and up to and along the many ridges that fan out like the rays of the sun across the peninsula. With the exception of the steeply sided, 721m-high Mt. Futago-san, climbs are rarely very long but do include some giddy heights, such as cliff faces and precipitous paths that should only be negotiated by competent hikers or in the company of an experienced guide.
Kunisaki is a special area and a hike along the Kunisaki Long Trail, in its entirety or just some of its constituent parts, is a journey not just into the peninsula's geographical heart, but also its society, culture and h
Kunisaki & Yabakei Bus Tours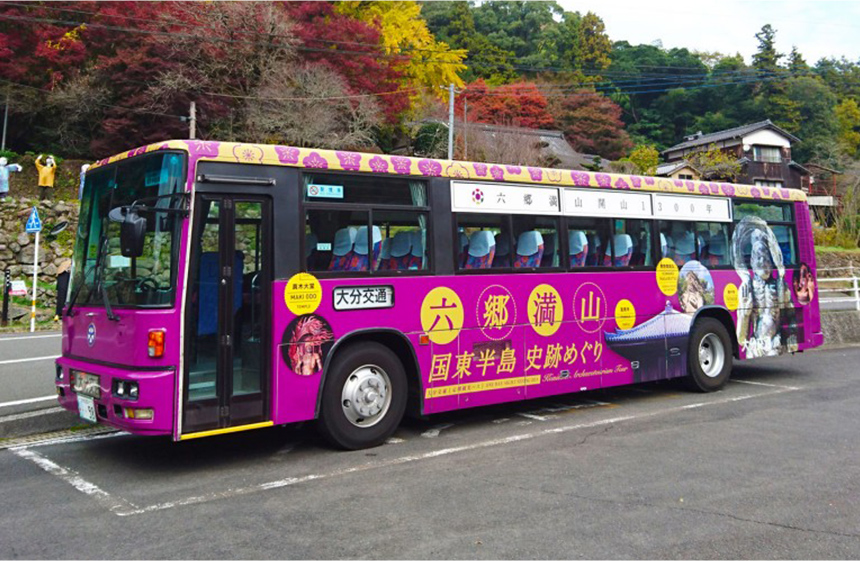 The Oita Kotsu bus company runs two regular, scheduled tours to Kunisaki and Yabakei. Both are convenient ways to explore both areas with start and finish points at Oita and Beppu Stations.
Kunisaki Route: Usa Jingu, Fuki-ji, Makiodo, Kumano Magaibutsu, Zaizen Bochi; and Futago-ji. Start and finish points at Oita Station, Beppu Station and Usa Station.
Yabakei Route: Fukuzawa House; Ao-no-Domon; Rakan-ji; Yabakei Dam; Shin-Yabakei; Prefectural History Museum. Start and finish points at Oita Station, Beppu Station and Nakatsu Station.